Make Your Library Inclusive & Accessible
Project Enable training gives you the knowledge and tools for creating a library that accommodates the needs of all students.
view more details

We've launched our new Project Enable training module on library services and resources for students with autism!
view more details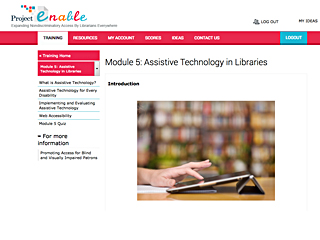 COMPREHENSIVE TRAINING
for librarians to learn how to design effective library services and programs for students of all abilities.
What's New
Happy New Year to all of our Project ENABLE visitors and users! We are looking forward to a number of wonderful additions to our website in the coming months. You may have noticed that we now have a blog (link is at the top of this page) and we are delighted to have a series of guest bloggers who are adding a variety of different perspectives and ideas about services to people with disabilities, including a very interesting and thought-provoking blog written by William Myhill, J.D. who served as co-director of Project ENABLE for eight years.
SHARING IDEAS for librarians, by librarians
their ideas, resources and experiences to help you discover what works best for your library
Monthly Blog
Identity First Versus Person First Language: The Other Side
The two main ways of describing disability and individuals with…
Monthly Blog
Project ENABLE's Treasure Trove of Resources Have you searched Project's…
Monthly Blog
The ENABLED Librarian: April/May 2018
Let's start this blog post with some questions. Do you…
About Project ENABLE
Project ENABLE, funded by grants from the Institute of Museum and Library Services, provides free, foundational training, designed specifically for public, academic or school librarians worldwide, to help them gain the knowledge and skills needed to create inclusive and accessible libraries that meet the needs of all students. Teachers, administrators, and parents are also welcome to use the site to learn, review or update their learning in this area.


This unique training site allows librarians to designate their library type and location (state) on their registration form and receive content that is tailored just for them.


More details about us